Maine Hoops Club Membership
Southern Maine SportsZone Basketball Club
Membership Programs
Introductory Offer
All-Star Membership - $75. per month (Family Rate = $50. per additional family member)
Open Gym and Fitness Access ($20 monthly value)
Basketball Institute – Once a Week – ($75 monthly value)
Participation in all In-House Leagues – ($50 monthly value)
Specialty Clinics – ($75 monthly value)
4 – 30 Minute Monthly Sessions on the Shooting "Gun" – ($40 monthly value)
1 Free Personalized Training Session - 50% Discount thereafter ($25 monthly value)
50% Discount on all Camps
Starter Membership - $50. per month (Family Rate = $35. Per additional family member)
Open Gym and Fitness Access ($20 monthly value)
Basketball Institute – Twice a Month – ($75 monthly value)
Participation in all In-House Leagues – ($50 monthly value)
2 – 30 Minute Monthly Sessions on the Shooting "Gun" – ($20 monthly value)
50% Discount on a Personalized Training Session
50% Discount on all Camps and Specialized Clinics
Southern Maine SportsZone Basketball Club Rates
Open Gym/Fitness Membership - $20
Basketball Institute Weekly Session- $20 (5 packs for $75)
In-House Leagues – (varies depending on length of season)
Shooting "Gun" - $10 per ½ hour
Personalized Training - $25 per hour
Basketball Camps - $125-$250
Monthly Positional Clinics - $50 (Meet once a week for the month, must sign up for full month)
All sessions are subject to Gym/Space Availability. Institute schedules will be posted at least two weeks in advance. There will be multiple sessions during the evening hours, space may be limited on a first come basis. Personalized Training sessions will be scheduled individually. Basketball Camps will be run primarily in the summer and fall. There will be special training sessions offered before the basketball season begins specifically designed to get athletes physically prepared for the upcoming season.
Why should I become a member of the Southern Maine
SportsZone Basketball Club?
The answer is easy, if you want to be the best basketball player you can be, this will afford you the best opportunity in New England. Let's take a look at a possible monthly schedule:
Open Gym/Fitness Membership - $20
4 Basketball Institutes (1 per week) - $80
Specialty Clinics - $75
In-House Leagues - $50
1 Personalized Training - $25
4 Sessions on the "Gun" - $40
The individual cost of this "minimum" schedule would be $290. The All-Star membership will get you this same schedule at $75 per month! This is an unbelievable opportunity!! Plus discounts on additional camps and clinics.
All clinics and sessions will be run by qualified instructors who have spent years working with athletes. We guarantee you cannot find a better value anywhere. The programs will soon become a must for anyone who is serious about bringing their game to a new level.
** There is a onetime initiation fee equal to monthly membership program costs. These funds will be put back into the club towards outfitting lounge and other areas.
Please contact Jim Seavey for more information.
mainehoops@gmail.com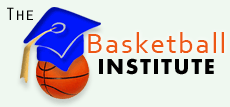 Raising Basketball IQ's One Player at a Time!
The Basketball Institute