Maine Hoops AAU - Clearinghouse
Maine Basketball Clearinghouse
Player Clearinghouse Registration Form
* Please note that posting your player information on the Clearing House does not guarantee your placement on a team.
Maine Hoops has set up this Clearinghouse to help players find teams to play on and to help coaches who are looking for players. As the Boy's State Commissioner for AAU, I will do everything I can to get players (boys or girls) on teams, including calling coaches as the register to see if they are willing to pick up more players.
Once there are enough players in an area, I will also contact people about getting those players together to form a team. If you know of anyone willing to coach please have them contact me. There are far many more players willing to play then there are qualified coaches to take teams. Most of this process will not take place until late February early March, so don't be disappointed if you don't hear something right away. However, the earlier you register, the better chance you have to get put on a team. Thanks.
Lenny Holmes
Grade 4
Girls
Boys
(
Grade 5
Girls
Boys
Grade 6
Girls
Boys
Grade 7
Girls
Boys
Grade 8
Boys
Grade 9
Girls
Boys
Grade 10
Girls
Boys
Grade 11/12
Girls
Boys
Girls:
Boys: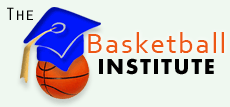 Raising Basketball IQ's One Player at a Time!
The Basketball Institute