Register Online
2017 Events - Registration

Insurance Coverage - Follow this link if you are needing to be covered for Insurance through Maine Hoops - In the COMMENTS section put the information for the school(s) you are looking to get an Insurance Certificate for.
Maine Hoops Dirigo fall league and Pick and PLay Series - Fall 2017
The Warm Up Weekend and Pick and Play Series is designed for teams to who are looking to for a flexible schedule during the month of October - Pick any Weekend Date and Play 2 games on that Date, Cost is $125 for 2 games. Games will be close together in timing. If traveling you can play both dates and guarantee your team 4 games. To Register Click the Link to the Dates Below you wish to play: Remember you can play either day or both days, you will choose when registering.
Warm Up Weekend - September 24th (all games in Augusta Area)
Pick and Play Series I - September 30th and October 1st
Pick and Play Series II - October 7th and 8th
Pick and Play Series III - October 14th and 15th
Pick and Play Series IV - October 21st and 22nd
Pick and Play Series V - October 28th and 29th
Why Maine Hoops Tournaments?
You DON'T last 20 years, if your not doing it the right way! We are one of the few Tournament providers that TRULY CARES about your team match ups. We are not some mass Tournament organization, who just wants to get the schedule out. You make a difference with us and we will work hard to give you the best match-ups we can. We have teams from all over New England and Canada already committed to our events.
Regulation Games (no running time - Southern Maine Only) Certified Board Officials, Top Locations and Gyms. We specialize in ONE DAY options, choose either day of Play. There is no reason to look anywhere else!! You can register as late as 12:00 noon on the Tuesday before the weekend of play.
See What Clubs are Saying:
I wanted to thank you for a great weekend! It was a very well run tournament and we had a great time... Kresten S.
"Great Tourney once again! Thank You!" Chris R.
"..was a great event Lenny and I know all the players and parents had fun..." Shawn L.
"This year Barre Swish brought 5 teams from Barre,VT, hopefully next year we'll bring all 9. Great Job!! Corey T.
"We lost our three games but we had a beautiful Time. We Will be there for the third Time next year... Thank you for everything" Sylvie L.
"We had a great weekend Lenny. Thanks for everything. It was a great way for my kids to finish their high school basketball journey... Kevin D
To register for an event, please click on the date and title of the event. The second event on each date are those offered in the Central Maine area with MAC, click on those events to register. You will be brought to another site to complete the registration process. You can register without making a payment. Also, after you have registered, you can return to the site to make payments or schedule requests. Contact Lenny at mainehoops@gmail.com or 207-749-9492 with any questions.
All Events - $295 for 2 Days and $150 for one day - Multiple Team Discounts Available. Price Guarantee - Find a *Similar Event at a Lower Price and we will match that Tournament Entry Fee.



Showcase Format Events

- 2 Games Each Day - Teams going undefeated for the weekend will receive Championship T-Shirts (4 games total) Showcase style guarantees your game times, no waiting to see your schedule based on results. Most importantly it allows us to give you the most competitive schedule we can, as this is how players get better.
Championship Format

- Pool Play to Championship Event - Traditional Championship Event - Winning teams will receive Championship T-Shirts. Every now and than it's fun to play a Tournament out to a Championship game in all divisions. Maine Hoops Hosts one Championship Style Event each Month.

One Day of Play available for All Events - (2 games each day)
March 4,5- Early Season Splash (Portland/Saco) - Start your season the right way with this Great Tip Off event. Showcase Format Event
March 4,5 with MAC at Marancook Showcase Format Event
March 11,12- March Mayhem I (Portland/Saco) - Last year this event attracted more than 100 teams! Showcase Format Event
With MAC March 11,12 at UMaine Farmington Area - Teams from all over will attend this event. Showcase Format Event
March 18,19- March Mayhem II Travel Team Special! (Portland/Saco) Part of a Travel Team Program? We have added a special rate this weekend for Travel teams (contact Lenny for details) - We already have Travel Teams from Mass. and Rhode Island coming! Contact Lenny for pricing. (Regular Club Games Running as well) Championship Format Event
With MAC March 18,19 in the Gardiner Area - 3 gyms all centrally located leads to a great event for all those participating.
March 25,26 - March Mayhem III (Portland/Saco)- Open Play for All Teams - Showcase Format Event
With MAC March 25,26 in the Augusta Area. - Open Play for All Teams Showcase Format Event
Greater Bangor Open, March 25,26 - Annual event that bring together teams from all over Northern Maine to the Queen City for a great weekend of hoops! Championship Format Event
April 1,2 - Maine Hoops Spring Breakout 1 (Portland/Saco) - This is your ideal event to get ready for the Maine Open State Tournament! Showcase Format Event
With MAC, April 1,2 in the Augusta Area. - Your central Maine location for this busy weekend of hoops. Showcase Format Event
April 7,8,9 - For In-State Teams: The Maine Amateur Basketball State Tournament. This is the State's LARGEST and only GRADE BASED Championship event, open to all teams. Last year over 175 teams participated. Winning teams don't get a trophy, they receive a FULLY PAID entry to the Zero Gravity National Championships in the greater Boston area in June. Championship Format Event
April 8,9 - Maine Hoops Open Invitational (Portland/Saco) This is for Out of State Teams ONLY on this weekend - Showcase Style Format
With MAC April 8,9 in the Augusta Area - This event net yet open for registration. Showcase Format Event
April 15 - Easter One Day Event (Portland/Saco) - Saturday Only Play and have time on Sunday for Family and Friends Showcase Format Event
With MAC, April 15 in the Augusta area. - Open play for all teams in Central Maine area. Showcase Format Event
April 22,23 - Maine Hoops Spring Breakout II (Portland/Saco) - Open play for all teams! Showcase Format Event
With MAC, April 22,23 in the Augusta area. - Open play for all teams in Central Maine area. Showcase Format Event
With Eastern Maine Hoops, April 22-23 in Bangor Area - Open Play for all teams who are interested in playing in the Bangor area. Showcase Format Event
April 29,30 - Maine Hoops Spring Breakout III (Portland/Saco) - Open play for all teams! Showcase Format Event
With MAC, April 29,30 in the Augusta area. - Open play for all teams in Central Maine area. Showcase Format Event
May 6,7 - May Day Classic(Porltand/Saco) - Open play for all teams. Showcase Format Event
With MAC, May 6,7 in the Augusta area. - Open play for all teams in Central Maine area. Showcase Format Event
May 13 - Maine Hoops "Home for Mother's Day! (Portland/Saco)- One day event, 2 games. Showcase Format Event
With MAC, May 13, in the Augusta area. - THIS EVENT HAS BEEN CLOSED ALL GAMES WILL TAKE PLACE IN SOUTHERN MAINE AREA
May 20,21 - 4th Annual NE-CAN Open Challenge (Portland/Saco) - 4th Annual Event featuring New England Club Teams versus Top Canadian Teams from Montreal, Quebec and New Brunswick. Easily our Most Exciting Event of the Spring! We already have clubs from all over Canada registering and the list grows daily last year close to 200 teams participated- DON'T miss this event. Championship Format Event
June 3,4 - Maine Hoops "Ballin" by the Beach I(Portland/Saco) - Teams from all over New England come to Maine to play Hoops at a great facilities in a perfect location! Showcase Format Event
June 10,11 - Maine Hoops "Ballin" by the BeacH II (Portland/Saco) - Teams from all over New England come to Maine to play Hoops at a great facilities in a perfect location! Showcase Format Event
June 17,18 - End of Season Splash (Portland/Saco) - End your season the right way with this great event. Run in conjunction with the Mass. Evolution program, you are guaranteed a GREAT rate ($250), teams of all ability levels and the beautiful Coast of Maine in June, what could be better?? Kick off Summer with this Great end of year event! Championship Format Event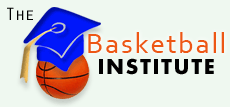 Raising Basketball IQ's One Player at a Time!
The Basketball Institute