Southern Maine Teams
XLSportsworld Announces Girl's Tryout/Placements
XLSportsworld in Saco, Maine's Premier Indoor Sporting facility is please to annouced Tryout/Placements for Spring Girl's Basketball Teams.
Placement/Tryout Dates and Times:
February 2nd and 9th
Grades 4-6 9:00-10:15
Grades 7-9 10:30-11:45
High School Teams will be formed after the High School Season
The Club will be under the Direction of Denise Holmes and other area female coaches. Coach Holmes has over 25 years of coaching experience and has won numerous AAU State Championshps over the years as a coach with Maine Hoops. Coach Holmes and her staff understand the importance of providing positve female role models for young athletes.
Cost - $395, 11 week season includes all Tournaments, through May 3,4, Coaching Fees, Practices, Skill Sessions, Uniforms, Open Gym and Fitness Facility enrollment during the season.
For more information or to Pre-register for Tryouts/Placements by contacting Coach Holmes at mehoops@maine.rr.com. Pre Registration is encouranged but not required. ($10 Tryout/Placment fee - athletes will be put through a skill session)
If you are interested in Coaching, please contact Coach Holmes at above email address.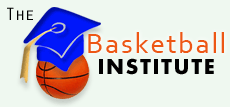 Raising Basketball IQ's One Player at a Time!
The Basketball Institute